I'm sorry, Patriot fans.
I was blinded by $100 million dollar Defensive Tackles and shiny up and coming Quarterbacks in South Beach. I was fooled by defensive geniuses aligning themselves with the unbelievable talent in Buffalo. The jury is still out, but I was also a little head over heels for "Gang Green" after Geno got punched in the jaw. 
For all of my preseason foolishness when I wrote you off: I'm sorry.
It's not just that the Patriots have come out like someone stepped on their foot without apologizing, it's the simple fact that I can't see any team beating them during the regular season. Which finally brings us to tonight.
Hello, Miami.
The team we've seen the last two weeks is the one I expected to show up from the beginning. I still don't see them beating the Patriots tonight, but this will be a lot closer contest than it looked two weeks before the Dolphins starting blitzing teams.
So let's talk about who is worth our time tonight in Fantasy Football, shall we?
New England Patriots
Tom Brady, QB
Ummmm, yeah so what more is there to say here? Alright I won't be that guy who fawns over Brady completely. Honestly, I told a buddy of mine today that Teddy Bridgewater might be a better play against the Bears. The Dolphins have found their pass rush and a complicated enough package to make things tricky for Brady. Just a thought.
Brandon LaFell, WR
LaFell underwhelmed in his return from injury, I expect that to change tonight. He saw eight targets last week and you can bet he'll turn in more than a two catch performance. I expect a nice six catches and a score tonight from LaFell.
Rob Gronkowski, TE
Still a matchup nightmare, and still hasn't been figured out. Proceed without hesitation.
Miami Dolphins
Ryan Tannehill, QB
Weird practice squad put-downs aside, Tannehill is playing now like I thought he would week one. The issue now is can he do it against a Patriots team known for taking away what opposing teams do best? You can bet that Jarvis Landry and Lamar Miller aren't going to run free like they did against the Texans last week. If the Patriots stop the yards after contact/catch, the points dry up for Tannehill. I'm avoiding him tonight.
Jarvis Landry, WR
Speaking of Landry, here's a guy who is somewhat of a mirage. Yes we see the big plays and long runs for touchdowns, but what we all need to remember is he still has just 395 yards and two touchdowns in six games. The 66 yards per game is nice, but a guy who saw double-digit targets the first game should have a little more production than that. He's a fringe FLEX option for me tonight, at best.
Dolphins, D/ST
A lot of you are being sucked into the trap the Miami Dolphins defense have set the past two weeks. Don't. They're not as good or bad as anyone is saying, but they aren't quite ready to tame the Patriot offense. Find a different option if you can.
Now a .gif illustrating what really drives Tom Brady: Acceptance: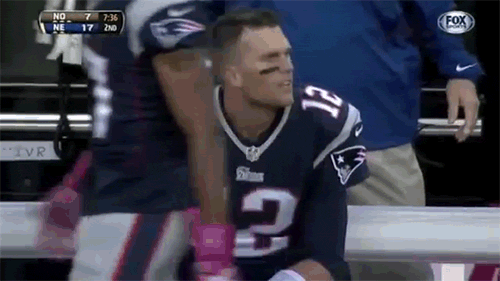 Follow me on Twitter @DACubbage for more sports and opinion